I had a great time on Friday at Somesso London 09, the one-day conference about social media and large organizations.
So many terrific people to meet, interesting topics to listen to and learn about, and opportunities to experiment with a few things.
You can read what others are saying and see the many photos people have taken and uploaded to photo sharing services like Flickr and Mobypicture.
What I want to focus on in this post is Twitter. Or rather, the role of Twitter as a tool to connect people with a common interest – in real time, easily, informally and instantly – no matter where they are.
That common interest on Friday was the conference, of course. But it was more about what people were talking about, and not just the people at the event but anyone who was attracted to see what was being said via the #smo09 hashtag.
That hashtag connects comments on Twitter. But take a look at what you get if you run a simple Google search on #smo09 – stuff from all over the web: text, images, audio, video, and lots of it.
What looked clear to me on Friday was that Twitter (in particular) has emerged into a spotlight, a place now at the forefront of attention and which attracts that attention because it's simplicity itself to not only track and follow something that interests you but also be an active participant in an evolving conversation if you want to, with people literally anywhere in the world.
We're already used to saying that Twitter is a backchannel, a device where participants at a conference, say, typically comment on what a presenter is doing. And it's not unusual by any means to be at an event where someone's set up a screen that displays tweets like this one, for instance, at Wolfstar's London party in February.
Somesso London 09 was no different in that there was a huge screen – small screenshot above; see it bigger in the original photo by Andrea Vascellari – and it did display tweets (as well as photos uploaded to Mobypicture).
But that's just the tool. What was interesting to me was how it was being used. This was a device that focused real conversations between anyone at the event itself and anyone else out there in the wide world.
Presenters referenced and used the Twitter channel. Eugene Lee, CEO of SocialText, coined the phrase of the moment during his presentation in describing how Twitter was being used by everyone as "the front channel." Jason Goldberg, Chief Product Officer at XING, tweeted as he started his presentation.
Rather than serve purely as a background chat feature, Twitter enabled anyone and everyone to be actively connected as a participant to a larger picture, as it were, comprising comment and opinion about the event and more, far beyond the physical confines of the Emirates Stadium in north London.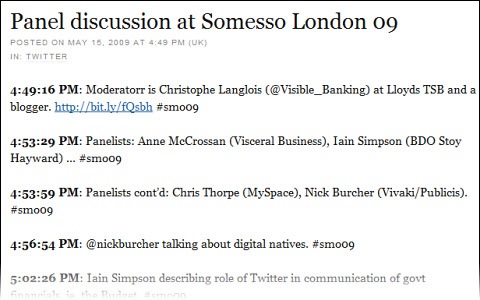 One more addition to this new front channel comes from a little experiment I did during the day – live tweet on some of the sessions, the content of which (the tweets) were posted in real time to this blog (as the screenshot example shows) via a nifty WordPress plugin called Twitter LiveBlog. I wrote about this plugin a few weeks ago.
I covered five of the sessions this way:
And because I used the #smo09 hashtag with each tweet, the content appeared in the Twitter front channel screen at the event and could be seen – and commented on – by anyone following the hashtag content, as well as by my own Twitter followers. Plus of course, people who read this blog or subscribe to the RSS feed.
Used in such prominent ways, I think Twitter enriches conversation and stimulates engagement, providing the means for anyone to be connected to you and others where you happen to be from where they happen to be.
Conferences and other events shouldn't ever be the same again.
Related posts: