I wrote last month that iPhone is all about the apps. It's not really about the device itself, cool though it is – it's much more about what you can do with it.
I discovered a new one yesterday – Thomson Reuters News Pro, a free app that gives you access to a wealth of real-time news, information and other content including pictures, video, global financial data, corporate information, and interactive financial charting.
I've used it a handful of times since installing it yesterday, and I'm hooked.
This will give you an idea of what to expect: screenshots, clockwise from top left, of news, pictures, market data and video.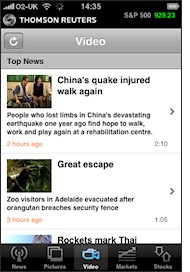 Thomson Reuters haven't only released their app for the iPhone, though. They have also released a version for the BlackBerry with a different user focus, as PaidContent writes:
[…] The Blackberry app is more geared to Thomson Reuters' traditional financial professional customer. [ Alisa] Bowen [Thomson Reuters' SVP, head of consumer publishing]: "One of the differences is the volume of content being pumped into the two devices. The BlackBerry product is designed as a reading product for the beginning of the day and the end of the day, or between business appointments. And so, the BlackBerry is more focused on organizing a huge range of content." Therefore for now, the BlackBerry app will feature commentary and analysis, which [Chris] Ahearn [Thomson Reuters' president of media] and Bowen described as a major new push for the company as it seeks to differentiate itself from its competitors.
Looks like Blackberry is all about the apps, too.