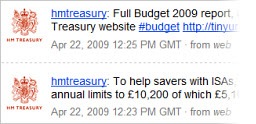 Yesterday's budget announcement by Chancellor of the Exchequer Alistair Darling occupies the full attention of the mainstream media today.
Not only the media: bloggers, tweeters and anyone online with an opinion is there, too, as people pore over the detail of what the government presented us with yesterday to try and make sense of it or, more typically, pick holes in it.
I'm no different. But it's really a thankless task, paying attention to all the wide and varied opinion out there as you try and relate everything to your own situation as well as get the big picture.
Here's some help which is where I started this morning:
That's Channel 4's nifty word cloud app (they call it a snowcloud) that let's you click on a word which then launches a video at the precise point Mr Darling talks about the topic.
And for a bit of balance, there's a similar feature to hear what Conservative leader David Cameron has to say.
Try it: click on the images or link to go to Channel 4's app. I bet you can't tell which words were said by which politician before clicking one of those images. :)
The app isn't perfect – click on a generic word like "next" or "isn't" and you'll see why – but it's neatly done and I found it useful to browse around at my own pace and speed to zero in on things that interest me in what both men said yesterday.
Tools like this are going to play a big role in political and related communication as we head towards the next general election which will take place by June 2010.
Another example – the Conservatives' ploy to capture clicks by buying Google ads with budget keywords. A neat idea: wonder how it worked. Or did it get hijacked like the Telegraph's Twitter Fall the other day?
In any event, expect to see more of such things and more experimenting.
Related posts: