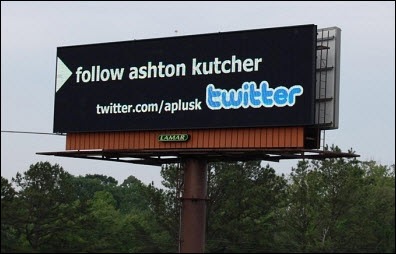 Hot news in the US yesterday was the popularity contest between TV actor Ashton Kutcher (the current husband of Demi Moore) and the CNN TV network to see who would be the first to acquire one million followers on Twitter.
He might have had some help in his communication not only online with social tools like Twitter but also traditional (well, digital) billboard advertising.
Billboard company Lamar Advertising rolled out "Follow Ashton Kutcher" across its national network of 1,133 digital billboards with hours' notice, says AdAge.com.
[…] The digital ads, rolled out as a pro bono offering from Lamar, were up nationwide by late afternoon and will likely remain live until [Friday] afternoon, after Oprah Winfrey plugs her new Twitter account on her eponymous talk show. "They were interested in helping out the cause, knowing that whoever won was going to donate a significant amount to malaria relief in Africa," said Jeff Golimowski, a spokesman for the Outdoor Advertising Association of America.
Which brings us to Oprah Winfrey who made her first tweet on Friday morning and then tweeted live on her US television show (or did she?).
And that show was all about Twitter.
If these events aren't a catalyst for broadening and deepening Twitter's penetration even more into the mainstream, I don't know what is. I bet comScore's Twitter stats for April show continued growth in people signing up, not only in the US but also elsewhere, continuing the sharp upward trend they reported for each month this year so far.
And just wait for that Oprah show on your local TV or cable channel wherever you are in the world as she's syndicated in a lot of places outside the USA.
Behind all the razzmatazz, though, there is some cool business thinking going on as the Wall Street Journal reports:
[…] Pali Capital analyst Rich Greenfield weighed in, noting that Ms. Winfrey's instant popularity on Twitter will pay dividends when she launches her own cable network next year. "Oprah's relevance and direct connection with consumers, thru mediums such as Twitter, has the ability to drive awareness and viewership in a way that other networks would die for," he said in a blog post, "especially new channels that are looking to gain visibility in an increasingly cluttered world."
I noticed just now that Oprah currently has 247,329 followers (which no doubt will show a lot more when you click that link).
All this clearly indicates even more reason for PRs and marketers to pay attention to what's happening with Twitter.
Related posts: