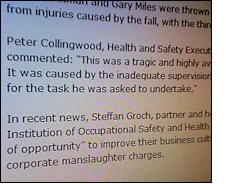 It's a bit of a macabre topic, one that wouldn't readily spring to your mind: the Corporate Manslaughter and Corporate Homicide Act, which came into effect in the UK a year ago, aims to ensure organizations are held to account if a fatal accident is caused by "gross failings" by managers.
Organizations convicted of corporate killing can face fines of up to 10 per cent of their turnover.
But a report in the Financial Times says that organizations face a potentially greater risk than simply a huge fine – the risk of reputation damage if not unrecoverable destruction of that reputation.
[…] as the law stands, a food supplier, convicted of killing a customer because of poor hygiene standards or an outbreak of disease, could be ordered to print prominently on its product packaging succinct details of the offence, conviction and size of the fine.

In the public sector, an NHS Trust, convicted for killing a patient because of systemic operational or managerial failings, could similarly be ordered to display details of the offence, conviction and remedial action ordered in its reception area, in letters to patients, and on its website.

When combined with a hefty fine, the negative publicity could be a blow from which even large companies can't recover.

What can businesses do to prevent running foul of the law? First and foremost, health and safety must remain a priority, even as the recession forces most to trim costs. Remaining fully compliant with the latest health and safety regulations and guidance is a must, as well as ensuring all staff receive the appropriate training.
A critical issue to consider in your crisis planning.