With its mixture of live-action video featuring real soldiers in combat and a first-person shooter games interface, Start Thinking Soldier is a powerful indicator of what it might be like as a soldier in a combat situation, presented in a way likely to appeal to an age group the British Army is targeting: mid teens to mid 20s.
The game is one part of an integrated recruitment campaign embracing television, radio, print, direct mail and online, as digital agency Skive explains: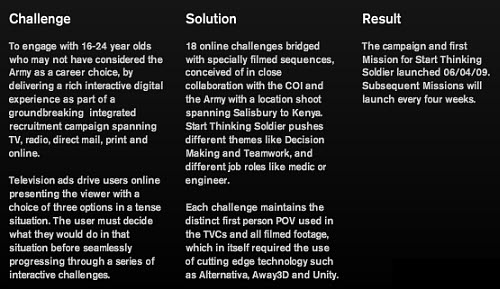 I took a look at the game last night and played through most of the first mission. While the first-person shooter element of the game really is very good indeed – gameplay is a reasonably seamless experience with terrific video and believable battlefield audio quality – what impresses me most is the conditional storyline as expressed in the video segments which connect all the pieces.
I say 'conditional' as when you're presented with choices to make, you get different video segments depending on which choice you select.
As BrandRepublic describes it:
The first mission features an explosives factory in the desert. Viewers are given the options: to burst in through the doors, to carry out an air strike or to blow a hole in the wall. Each commercial concludes with a voice-over stating: 'Show us your Army skills….Start Thinking Soldier. Online.'

Once online, participants pick one of the options and are given immediate feedback on their decision. From there it is possible to take part in a whole range of online challenges, reminiscent of the video game Doom, that test a variety of skills including observation, problem solving, intelligence, memory, navigation, and awareness – all resulting in detailed feedback on your own performance and natural skills and weaknesses.
The Doom simile is not bad although remember that the game is representative of real-world combat rather than zapping aliens.
The whole thing is very well done: congratulations to the Army and to producers Publicis and Skive.