[See April 4 Update 1 at end of post.]
I suppose speculation that Google is in talks to acquire Twitter should surprise nobody.
The story I saw early this morning in TechCrunch is based on information they say they have obtained from trusted sources "close to the negotiations."
According to the TechCrunch post last night (PST), Google and Twitter are discussing an acquisition.
The original post was updated sometime later, adding the view that "acquisition discussions are still fairly early stage, and the two companies are also considering working together on a Google real time search engine."
Whatever the truth of the matter – and that truth will emerge sooner or later, maybe even sometime today – Twitter is on a seemingly non-stop roll of growth in users worldwide as well as attention from everyone and her granny, judging by the constant media reporting.
So why would Google want to acquire Twitter?
The one common opinion expressed wherever you read this story is – search. Twitter is about short text exchanges between groups of people, of course: that's the so-called micro-blogging aspect of the service.
Yet increasingly it is about search: finding things being talked about on Twitter as how many people use it evolves from being a glorified instant messaging platform to a far more valuable communication tool largely about highly-accurate keyword searching using tags.
It's also about the huge ecosystem that has grown up around Twitter, with applications and web services galore developed by anyone who wants to hook into Twitter's API that let you do some pretty useful things.
No doubt the acquisition news will be a growing hot story in the coming days if not the coming hours. I recorded a brief Audioboo earlier with some immediate thoughts about this news (you can listen right here if you see the embedded Flash player at the top of the page).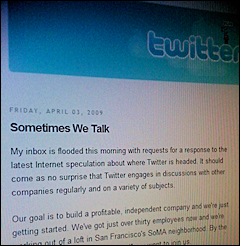 [Update 1: April 4] Just as this speculation about Google and Twitter wasn't much of a surprise, it's equally no surprise to see that there seems to be little if no substance to the rumours.
I recorded another Audioboo at the conclusion of the day yesterday with some wrap-up thoughts.
Since the news emerged yesterday morning (UK time), there has been extensive and continuing commentary and opinion on what it might mean for Google, for Twitter, for the future of search, you name it.
A clear indicator that it was only so much speculation came in a post on the Twitter blog yesterday morning (California time) from co-founder Biz Stone in a rather good 'non-denial denial' where the key statement he makes is this one:
[…] Our goal is to build a profitable, independent company and we're just getting started.
You'd expect him to say something like that whatever's going on, wouldn't you?
But it does look like there's no smoke to see this time.