Great news if you have an iPhone and want to use Skype – now you can make and receive your free phone calls over the net just as you can with Skype on your computer with a version of Skype for the iPhone, free software available today in the iTunes App Store.
I grabbed a copy early this morning and installed it on my iPhone.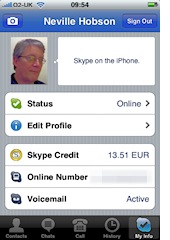 I plan to have a review on my tech blog once I've been using it for a bit. Mind you, if you've used Skype before on a computer or a mobile device – with Skype Mobile, for instance, or perhaps with a 3 Skypephone – you'll know what to expect: it's simplicity itself, both to set up and use.
I used it to make a couple of calls, to other Skype users and to a normal phone number, as well as received calls from other Skype users and from someone calling from a normal phone (note that calling to and receiving from normal phones are added-value Skype services which you have to pay for).
In all cases, brilliant: call quality via my wi-fi network was excellent, both holding the phone to speak into its mike as well as with the hands-free loudspeaker (great for conference calls).
I recorded a 4-minute Audioboo with my first impressions after installing Skype for iPhone (which you can also listen to right here if you see the embedded Flash audio player at the top of the page).
The only negative I can see right now, which I mentioned in my first-impressions audio, is that you can't run Skype while you use your iPhone for anything else.
That's a limitation of the iPhone platform, not Skype, which doesn't let you run more than one app at a time. So I see the value of Skype for iPhone more as deciding to use it at a specific moment for a call or text.
Will this change on the next or future versions of the iPhone? Who knows but I reckon there must be huge pressure on Apple to address this big negative only-one-app-at-a-time issue about iPhone.
Meanwhile, if you have an iPhone, just get Skype and try it for yourself!