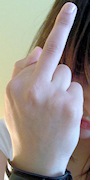 This is either another indicator of organizational arrogance, or a sign that some very odd people work at the company, but take a look at what's happening with Ryanair.
Either way, it's a huge public relations cock-up.
If you're a user of the Irish budget airline's website and then write a blog post about your experience with it and finding a bug, complete with screenshots, here's a taste of what you can expect from Ryanair if they come a-visiting and decide to join the conversation, as happened to Jason Roe last week.
A couple of sample comments, starting with Ryanair Staff #1:
jason!
you're an idiot and a liar!! fact is!
you've opened one session then another and requested a page meant for a different session, you are so stupid you dont even know how you did it! you dont get a free flight, there is no dynamic data to render which is prob why you got 0.00. what self respecting developer uses a crappy CMS such as word press anyway AND puts they're mobile ph number online, i suppose even a prank call is better than nothing on a lonely sat evening!!
Website is not perfect, Life is not perfect…
If you would work in your pathetic life on a such big project in a such busy environment with so little resources, you would know that the most important is to have usual user behavior scenarios working rather than spending time on improbable and harmless things.
We very well know about these anomalies and unless it is not critical we are not going to sacrifice time to this.
If you would be a serious programmer you would know these things and would not post any of this on the web if you would think it can cause us troubles, but you would report to us directly.
Even you did not discover anything major you are still trying to benefit from this.
If I would be you I would think of consequences this can have.
If you would be a serious developer you would work out your About page as well. Or is this really about you? What is that bunch of links there? I could give my review of those websites and it would not be positive probably, but really I don't know if you actually worked on them or what exactly you did and how big influence you had to make changes there. So keep working on yourself and don't post bollocks.
So there, Jason, that's you put in your place! ;)
On the face of it, the comments purely look like they've been made by Ryanair employees who are either clueless about online engagement behaviours or simply don't care at all. I can't imagine this reflects an organizational approach to engagement using words, phrases and overall language that basically says 'fuck off' to any critic.
Then again, Ryanair employees do have a unique leadership communication model to emulate.
Of course, it's also possible that this is a huge scam on Ryanair with con artists pretending to be employees. No one's suggested that, though.
This story is now getting picked up in the mainstream media. And the comment above from Ryanair Staffer #1 which included "what self respecting developer uses a crappy CMS such as word press anyway" attracted the attention of WordPress architect Matt Mullenweg. So that's given this even wider awareness among influencers online.
I don't expect to see Ryanair react in any meaningful way, certainly not with an apology, as they don't have a track record of that kind of behaviour when dealing with critics. But you never know – maybe this might be the time when Ryanair gets humble (that's probably a bit fanciful).
So I'm watching communication developments with interest.
(Via Wildfire PR via Twitter)
Related post: