A tweet from @downingstreet, the Twitter handle of the communications team in the Prime Minister's office at 10 Downing Street, prompted me to check in at Number10.gov.uk at 11am this morning to witness a question-and-answer session with members of the Cabinet being streamed live over the web from the venue of the regional Cabinet meeting in Southampton.
I watched for over an hour as a succession of senior government ministers fielded wide-ranging questions from the floor, starting with Prime Minister Gordon Brown. Cabinet members who I saw speaking were Hazel Blears (Secretary of State for Communities and Local Government), Ed Milliband (Secretary of State for Energy and Climate Change), Geoff Hoon (Secretary of State for Transport), Peter Mandelson (Secretary of State for Business, Enterprise and Regulatory Reform), Harriet Harman (Leader of the House of Commons, Lord Privy Seal, Minister for Women and Equalities) and Alistair Darling (Chancellor of the Exchequer). The Q&A session was anchored by John Denham (Secretary of State for Innovation, Universities and Skills).
Fascinating seeing this. To be honest, I paid little attention to the actual questions being asked and the answers given, and more on the event: how it was being done, behaviours I could observe of the various government members in how they spoke, things like that.
This isn't the first regional cabinet meeting but it's the first time I've seen live video over the web from such a meeting. Anyone with a web browser and an internet connection, anywhere in the world, could watch this event.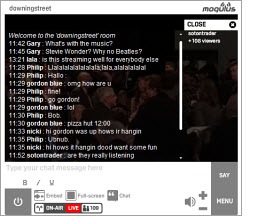 There was also a chat function where you could type a question, a comment, anything.
As this screenshot suggestions, don't expect much in the way of intellectual challenge, shall we say, with discussion here if today's content is any indicator.
Still, it all adds up to another means of connecting government with its publics, to borrow a highly-apt descriptor from the PR business.
Apart from anything else, it's a very good example of precisely one of the ways in which central government will engage with citizens via digital means.
In fact, it's smack in the middle of the remit of the Director of Digital Engagement, a new senior role in the Cabinet office that's being advertised right now (and which I wrote about yesterday).
Those chat texts are a small but valid indicator of part of the challenge the holder of that new job faces in using whatever effective channels there are to connect with people and help them see beyond the channels themselves to the connection opportunity.
As with criticism of the cost of holding these regional Cabinet meetings – over £200,000 a pop, according to some media reports last month.
Those meetings, cost criticisms, live video streaming over the web, text chats, Twitter, you name it, it's all grist to the mill in any strategic (and disruptive) approach to communication.