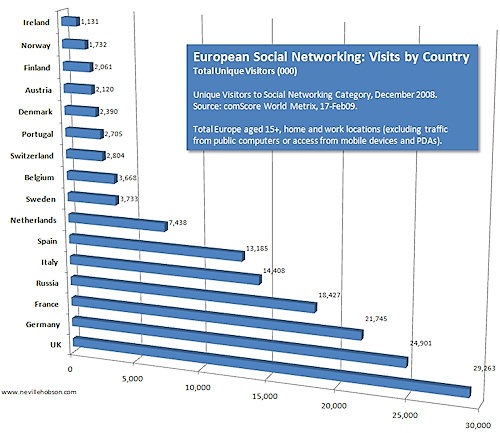 Interesting stats from comScore, the internet information provider, on the growth and penetration of social networks in 16 European countries in 2008.
I made the chart above (for use in a PPT deck) that interprets the tabular data in comScore's press release today showing the total unique visitors per European country to social networking sites.
There probably aren't any real surprises in this data as far as the top three countries are concerned: the UK is at the top in terms of total unique visitors to social networking sites (29.2 million) followed by Germany (24.9 million) and France (21.7 million).
One thing I did find most interesting is the disclaimer to all comScore's data:
Excludes traffic from public computers such as Internet cafes or access from mobile phones or PDAs.
So access to social networking sites from the mobile web isn't included. I wonder what the results would have looked like if they had included such accesses. comScore's own data last November indicates that the mobile web is driving growth in access to social networking sites in Europe; it would have been good to see that connected up with this latest data.
One thing I would like to know that isn't defined in comScore's press release is which social networking sites formed part of the research: while the press release goes into detail on that point with regard to France, it doesn't say in terms of the overall 16 countries included in this research.
And in the case of France (the prime focus of comScore's announcement today), comScore says the top three social networking sites in that country in 2008 were Facebook (with an increase in visits of a whopping 443% over 2007), Skyrock (up just 8%) and Linternaute Copains d'Avant (up 112%).
The latter two networks are domestic French products while Facebook is of course an American product. What's behind Facebook's spectacular growth? Possibly many reasons, but an obvious one that comes to mind is that Facebook is offered in the French language to users in France, which started in March 2008.
As for market reach in those 16 European countries, are there any surprises there?
One more chart for a PPT deck but this time, the layout didn't enable me to add a legend in the same style as the other chart I did on unique visits. (I'd love to combine both charts' data into one chart: anyone know how to do that in Excel 2007?)
What this chart immediately above shows is a visual representation of comScore's data on the percentage reach of each country's total internet audience. The UK comes top at 79.8% with Austria at the other end of the scale, at 49.7%.
comScore's summary:
[…] Of the 282.7 million European Internet users age 15 and older who went online via a home or work computer in December 2008, 211 million visited a social networking site – representing a penetration of 74.6 percent. Of the 16 individual European countries included in the study, social networking reach was relatively low in France, at 63.9 percent, compared with 79.8 percent in the U.K. or 73.7 percent in Spain. Despite its relatively low penetration, France's social networking audience (21.7 million visitors in December) was the third largest in Europe behind the U.K. (29.3 million visitors) and Germany (24.9 million visitors).
Get the details at comScore: "Social Networking Has Banner Year in France, Growing 45 Percent."