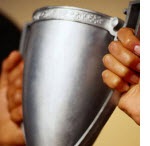 Sometimes, if something good happens to you that other people publicly talk about a lot, you really have little option but to talk about it a bit yourself as well, if only to acknowledge that others are saying things.
And if you don't do that, you can run the risk of being considered arrogant or priggish if not downright rude.
That's a bit of a convoluted way of introducing something that gives me mixed feelings of considerable pride and not a little self-consciousness.
Pride that someone thought that I merited public recognition for doing things related to my profession that I love doing and would do anyway. Self-conscious that so many people think this was a good thing and are saying so publicly!
What this is a about is this – I'm being honoured by the International Association of Business Communicators (IABC) with the 2009 Chairman's Award that will be presented to me at the start of the IABC 2009 World Conference in San Francisco on June 7. More in the press release issued on Wednesday.
The person behind this is Barb Gibson, the 2008-2009 IABC Chair, who exercised her prerogative as Chair to select one IABC member to receive this year's discretionary award. And she selected me. You can read Barb's post (which is cross-posted at the IABC Cafe, the association's official blog) in which she goes into some detail as to why she did that.
You can also read what other good friends have had to say, notably Shel Holtz, Dan York and Tom Murphy. Plus so many tweets from IABC members and others on Twitter.
To all of you: thank you from the bottom of my heart. And to you, Barb, especially: thanks. I'll have more to say on June 7.
I don't like the limelight much (one reason, I suppose, why I'm a communicator rather than, say, a celeb publicist or a politician). But I appreciate your compliments which I receive with gratitude.