In common with thousands of fellow Twitter users, I sat down on the sofa at 10:35pm last night for the first of the continuance of the 15th series of Friday Night With Jonathan Ross, the chat show on BBC1 with the eponymous but recently-disgraced radio and TV presenter.
Ross is a Twitter user as is Stephen Fry, one of the guests on last night's show (the other guests were Lee Evans and Tom Cruise, both of whom aren't Twitter users).
Ross' show was taken off the air last October and the presenter suspended from all his broadcasting activity on the BBC in the wake of the uprising of complaints to the BBC over lewd phone calls made by Ross and Russell Brand to veteran actor Andrew Sachs. You can read all the details here if you want to get up to speed on that (plus this Wikipedia entry).
So quite a few Twitterers, me included, were drawn to watch the comeback in part because of a sense of connection with a couple of celebs – one with a tarnished reputation – who not only also use the same microblogging app but also actually engage in conversation with "regular folk."
Fry in particular is one of the most popular people using Twitter, at the moment with over 60,000 followers. This morning, TwitterCounter estimates that Fry has over 4,000 new followers since yesterday.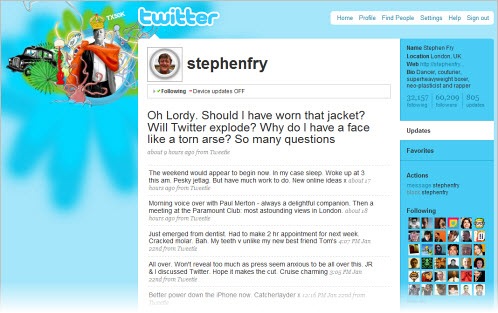 I think a prime reason for watching the show last night was waiting to see whether Ross and Fry would talk about Twitter. Yes they did!
Close behind that was what would Ross say about his absence and the wonder of what further controversy might there be (there was none, just so you know), and thus be able to communicate one's own thoughts and opinion instantly to the rest of the Twitterverse.
Yes, of course, I sat on the sofa with laptop at the ready, TweetDeck loaded, ready to tweet at an instant. And I did tweet. As did thousands of others.
What a terrific focus group – instant audience feedback for the BBC, for Ross and Fry, for anyone paying attention to this near-phenomenon called Twitter and its development.
Indeed, researcher Hitwise published data a few days ago showing the growth of Twitter uptake in the UK.
Is Twitter in the mainstream now? There's much speculation about that (which I've also mused about before). The Times' feature "Twitter to hit the big time with explosion in microblogging" published on January 22 is especially worth reading.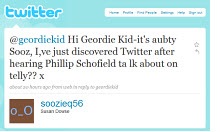 Celebrities like Ross and Fry undoubtedly drive some of the uptake, as do others like Phillip Schofield (a keen Twitterer) and Fern Britton when they had a conversation about Twitter on their ITV morning show earlier in the week.
As this tweet from just one new Twitter user shows, such comment and opinion is inevitably going to drive people to try something out for themselves.
If I were running Twitter's PR, I'd be awfully pleased with things at the moment. All this activity, growth and talk – surely the apogee of viral communication – where active PR has done little as, broadly speaking, it hasn't been needed.
But whether Twitter is mainstream yet or not doesn't really matter. Some people will use it, others won't. That's called choice.
I think, though, that we'll see Twitter embedded, so to speak, in the imaginations of more and more people.
Maybe that's what mainstream means.