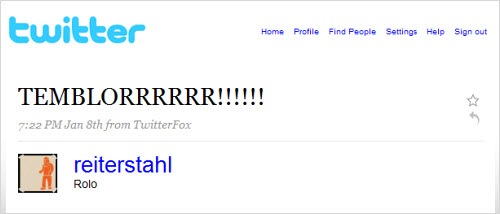 Last Thursday January 8, an earthquake measuring 6.1 on the Richter scale struck Costa Rica in Central America.
My wife Laura and I have a strong interest in Costa Rica as we have family there and, indeed, lived there during much of the 1980s. Thankfully, family there are safe and well, gracias a Dios.
Not the case for everyone, sadly, as to date, 19 people have died with 23 officially missing. The government declared a state of emergency as property and infrastructure damage rose to over $100 million.
The disaster of course is a news event and has been and continues to be widely reported in mainstream media worldwide.
Interesting to note that the first report of the quake happened on Twitter as the English-language weekly newspaper The Tico Times reports:
While nearly everyone in Costa Rica felt the tremors, the first published report of Thursday's earthquake came not from the radio, television or newswires, but from the social networking Web site Twitter.

The report, posted by Twitter user "reiterstahl" at 1:22 pm, consisted of a single exclamation: "TEMBLORRRRRR!!!!!!" Soon after, the site was abuzz with news updates, requests for help and information and offers of aid and donations for quake victims.
Another indicator of how Twitter is moving in from the edge.
If you'd like to help relief efforts in Costa Rica, an effective way is by donating money either directly to the Cruz Roja Costarricense (website in Spanish) or online at the International Federation of Red Cross and Red Crescent Societies website.
Thanks if you do.