It's been a major frustration since Boxing Day – no iPhone!
From one day to the next, my iPhone suddenly didn't work. When I turned it on, all that happened is the screen you see in the image.
The most frustrating thing has been multiple (and all unsuccessful) attempts to speak to anyone at O2's iPhone support department.
You phone the number, go through the recorded-voice menu choices… and you're in a queue.
No matter which day it was, nor what time of day, I was in a queue. In total, I estimate I spent nearly 100 minutes on hold to O2 iPhone support during three call attempts, eventually giving up in each case.
And the hold music! Oh dear God, please don't ever make me call O2 again if I have to endure that music! Here's a two-minute sampler, a recording I made the last time I was on hold. Bet you can't go beyond 15 seconds –
So a nice iPhone brick and I can't get hold of anyone at O2 on a phone to talk about it. Today I decided to go and visit my nearest O2 store and see if anyone there could help.
Am I glad I did that! To my pleasant surprise, I encountered two O2 employees at the O2 Reading store – Sehana and Dan – who made me feel that a) they knew what they were doing and b) they actually did care about my problem and resolving it, even in a very busy store with long queues of customers.
Efficiently and purposefully, they investigated my problem and quickly concluded that a replacement under warranty was the thing to do.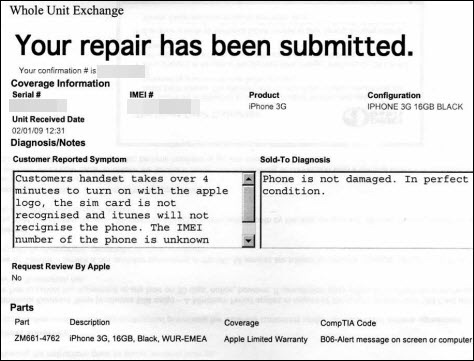 No arguments, no quibbles, just enter some data, a couple of clicks, and get a printout confirming the exchange.
It's not instant – it will be a week to ten days before I see the new iPhone – as it involves a warranty claim. That's fine, I can live with that if it means the result is an iPhone without fault.
Plus I do have another mobile phone – my Nokia N95 8GB on a Vodafone contract – so I won't be out of touch.
So while I think O2 really does need to have hard look at their structure for telephone customer support, and hoping I never ever have to call them again, as far as face-to-face in-store customer support is concerned, I cannot complain at all.
Related posts: