A lot of people have being doing a lot of writing about Twitter during the past week.
I'm not referring specifically to the awful events in Mumbai, India, where Twitter played a significant role in rapidly connecting online people with information (even if it was hard to really judge the ultimate value of some of that information as CNN's "Tweeting the terror: How social media reacted to Mumbai" highlights), which I'm sure drove thousands of people to start twittering from their computers and mobile devices wherever they happened to be.
That is one focus in my mind, though: the recent growth in Twitter usage as more people have come to discover it and try it out, prompted surely by current events on a large and tragic scale like Mumbai.
Or maybe it's on a more prosaic level: people they know or want to connect with in their own profession or just socially.
In July, I speculated that Twitter's tipping point is coming, my view stimulated largely by the service outages Twitter was going through at the time and the fact that users were nevertheless not forsaking Twitter for alternatives.
I don't have access to Twitter's overall usage data that might show a tipping point for when any wide-scale take up by people happened. I can look at my own Twitter usage since I signed up on December 6, 2006, though, nicely captured in this TweetStats timeline.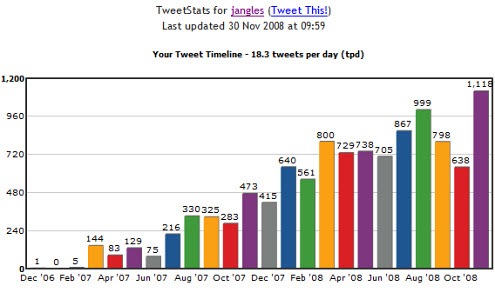 Looks like my personal tipping point with Twitter happened in March 2007. Hmm, that's when I said that Twitter could become compulsive.
[…] I think it's got legs. It's just beginning to gain traction. Tweets show up in Google searches. Technorati will rank your Twitter profile, just as it does with blogs. Indeed, that makes your Twitter a blog (or a micro-blog, as some are calling it).
There are now hundreds of journalists and PRs using Twitter as Stephen Davies' lists illustrate. Plus individuals in hundreds of companies and other organizations including government agencies as well as politicians, famously the communicators at 10 Downing Street ("The official Twitter channel for the Prime Minister's Office") and Barack Obama's presidential campaign team (no, not the man himself, a question I asked of Australian Prime Minister Kevin Rudd).
Taking a look at the professional usage level, there are lots of IABC members who have joined Twitter during November, now more than 140 in total worldwide when I looked at the IABC on Twitter blog just now (sorry, visible to IABC members only), plus the official IABC Twitter presence and a handful of IABC Chapters with generic accounts.
I've had a flurry of new followers during November, including fellow IABC members, more in any one month than I have had before.
For a good sense of what to think about Twitter, take a look at  Geoff Livingston's '10,000 Tweets: Heaven and Hell' post.
I just tweeted for the 10,000th time. So what the heck does that mean? I am a Twittering fool? 20 months, 10,000 tweets, 3,000 followers. What learning have I gleaned from all this?
Geoff's 14 observations – and those of the Twitter friends he asked – are ones with which others will undoubtedly nod in some agreement. I did with most especially his points about how many tweets you post (see my timeline above) and the number of people you follow and who follow you.
And just for comparison with Geoff, here's my own Twitter profile: 24 months, 11,073 tweets – averaging 18 per day according to the timeline – 2,055 followers (and I follow 730).
Then there's an equally good post from Tim O'Reilly who writes about why he loves Twitter.
[…] Like a lot of people, I tried out Twitter early on, but didn't stick to it. Most of the early twitter conversation was personal, and I didn't have time for it. I came back when I noticed that about 5000 people were following my non-existent updates, waiting for me to say something. With that many listeners, I thought I'd better oblige. (There are now close to 16,000.) I soon realized that Twitter has grown up to become a critical business tool, ideal for following the latest news, tracking the ideas and whereabouts of people who will shape the future of technology, and sharing my own thoughts and attention stream.
O'Reilly lists six specific points he believes are compelling about Twitter, all of which I agree do precisely that – make Twitter compelling.
So has a tipping point arrived for Twitter?
Note I'm asking about a tipping point not the tipping point: unlike my thinking last July, I no longer believe there is a single tipping point for Twitter.
So has it? I believe the signs are there for many people.