A new survey on social networking in the workplace, released today by AT&T, shows strong evidence that enabling employees to use social networking tools as part of everyday working life leads to an increase in employee efficiency.
"Enterprise 2.0," a pan-European survey of more than 2,500 people in five countries – Great Britain, France, Germany, Belgium and The Netherlands – shows that social networking can be a good thing for organizations, with 65% of those surveyed saying that it has made them and/or their colleagues more efficient. 46% say that it has sparked ideas and creativity for them personally.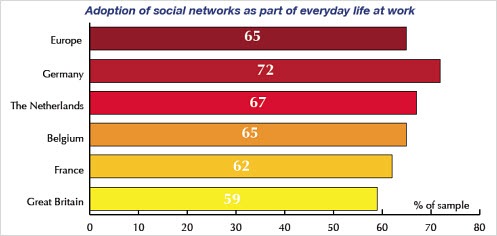 What's perhaps more interesting is noting the response variation in each of the countries surveyed, ranging from Germany at a high 72% to the UK at a low 59%.
The survey doesn't go into detail or analysis as to why the variations although I'd guess a strong factor affecting the results in each country would be differing national cultures and other factors influencing individuals' preferences to use use social networking in business.
According to the survey, the top 5 social networking tools being used by organisations across Europe are:
Companies' own collaboration sites on intranets (39%)
Internal forums within the company (20%)
Company-produced video material shared on intranets (16%)
Online social networks, like LinkedIn, Facebook, etc (15%)
External collaboration sites on the web and internal blogging sites (both 11%)
10% or fewer employees use other types of external social networking sites on the web, such as external forums (10%), social video sites (7%), external blogging sites (6%), social photo sites (4%), social bookmarking sites (3%) and microblogging tools (2%).
The survey report says that, in general, large companies have adopted social networking into their everyday way of working more so than small- to medium-size enterprises or SMEs. The focus for large companies is on internal social networks, whereas for SMEs it is on the use of external networking tools.
In an exclusive FIR Interview podcast published today, I interviewed Martin Silman, Executive Director, AT&T Global Concept Marketing, who discussed various aspects of the survey.
Our 24-minute conversation is worth a listen if you want to get some personal insight into some of the survey data as well as hear some recommendations from Martin.
At 76 pages, the detailed survey document presents such a comprehensive set of data it's hard to pick from the wealth of information what to highlight without writing an essay of a post.
So I'll pick two other points.
The first I found especially interesting concerns perceived risks such as leaks of confidential information, an issue often cited by critics of social networking in the workplace as an unacceptable risk.
This survey squarely addresses the issue, reporting that 24% of employees surveyed say their company has experienced leaks of confidential information as a result of information posted on either internal or external social networking sites. And such leaks have been more common among companies that use social networking sites as part of everyday life (29%), compared to those that do not (14%).
The survey also reports some interesting differences in employees opinions according to age:
More of those aged 18-34 think there are negatives about social networking in the workplace, compared to those aged 55+
More of those aged 18-24 (56%) and 25-34 (55%) think such sites are a distraction to employees, compared to those aged 45-54 (46%) and 55+ (44%)
More employees aged 45-54 (49%) think they could be a source of company leaks of confidential information, compared to those aged 25-34 (43%) and 35-44 (44%)
These are good points to address transparently, enabling the reader to make informed judgements in the context of the overall findings of the survey.
Another point concerns transparency.
67% of European employees whose companies use social networks believe their organization has become more open and transparent since the adoption of this way of working. And this applies to more employees in Germany (84%) where adoption levels are highest, compared to Belgium (45%) and the UK (56%) where they are lower; it also applies to more middle managers (73%), compared to junior managers (59%).
But across Europe overall, 21% of employees say their organization has changed a lot in this respect, whereas 46% say the change has been slight.
Of course, one downside of such transparency the report highlights is the greater risk of information leaks, as mentioned earlier.
Finally, the survey's conclusion clearly points to a trend: one that, anecdotally at least, supports things I've seen and heard during 2008 in conversations with companies in a number of European countries and in the USA.
The researchers asked those 2,500+ employees in 5 European countries participating in the survey this question – If you moved jobs tomorrow, which of the following would you hope and expect the organization to have?
Here's what they said:
41% would expect a new employer to have intranet collaboration sites (ie, internal social networking sites).
In addition, 25% would expect a company to have access to external social networking sites like LinkedIn, etc.
And more of those employees whose companies use such sites as part of everyday life at work would have such expectations, with 52% of them expecting to find intranet collaboration sites and 31% expecting to have access to external social networking sites.
The research for this survey was conducted for AT&T in September and October 2008 by Dynamic Markets Limited of Abergavenny, UK. The research firm explains their survey methodology in the survey report.
"Enterprise 2.0: Corporate Social Networking in Europe" is on free download from AT&T. And listen to the FIR Interview podcast with AT&T's Martin Silman.