Earlier today, I posted on my tech blog links to two video reviews I made of my experiences and impressions about the new Googlephone aka the T-Mobile G1 from using it during 48 hours last week.
But if I were to summarize everything I thought about the Googlephone in something as concise as a 140-character tweet, what would I say?
That's the question Mark Comerford asked me on Saturday. Here's what I said: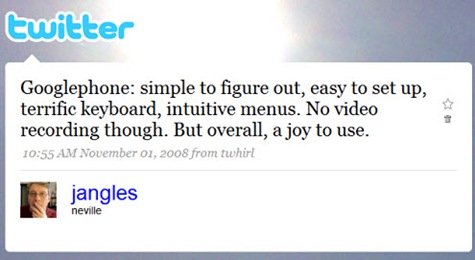 Maybe that's all you might need to know, just to get a brief sense of what someone you knows thinks about something.
I applied that thinking yesterday to some thoughts about Quantum of Solace, the new James Bond film which opened in the UK on Friday and which I saw yesterday.
Here's what you need to know:
No spoilers there, just enough to provide you with a concise opinion on what somebody thought about the movie.
So, @MacDivaONA and @EdenSpodek, I hope you found that tweet helpful!