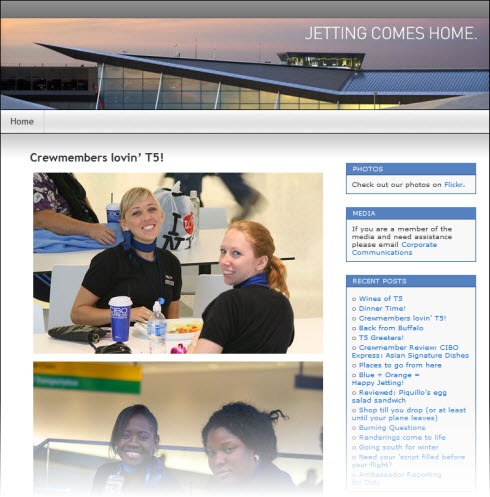 An airline with a blog, a Twitter account and its employees saying really good things about its new Terminal 5 which opened for business this week?
No, it's not the T5 you might be thinking of, the one that presented the airport operator and airline with a PR nightmare when it opened to the public last March.
Oh alright, I'll name names – that was Heathrow T5, BAA and British Airways.
The terminal I'm talking about here is the new T5 at Kennedy Airport in New York, the new home for JetBlue, an airline that is no stranger to negative publicity nor effective communication in times of crisis, especially video like this from CEO David Neeleman.
You could hardly draw greater contrast between two airlines and their different approach to communication.
Of course there are undoubtedly lots of differences between JetBlue and British Airways – geography, operating circumstances, routing, budgets, leadership philosophy, and more.
Yet I'm struck by the refreshing way in which JetBlue goes about its communication using social tools like blogs and Twitter (the New York Times has a good write-up of what they're doing re T5), contrasting that with the stiff, formal and, well, unimaginative way of British Airways (but with some light in the tunnel).
Even though I've been a BA customer for absolute years – and all my forthcoming trips to European destinations in the coming months will be on BA flights – I very much like JetBlue's informality and approach in how it wants to engage with people.
So much so, in fact, that if they flew over here, I would definitely fly JetBlue!