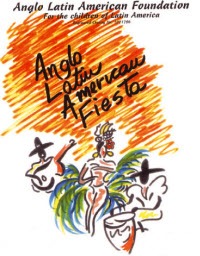 A part of the world that's not constantly front-of-mind for many people in the UK is Latin America.
One country that's an integral part of that region is Costa Rica, nowadays a popular holiday destination and a place I call a second home having lived there for much of the 1980s. It's also my wife's first home, something she focuses on with her blog.
So it was a real pleasure to spend much of yesterday afternoon immersed in sights and sounds of Latin America at the 2008 Anglo Latin American Fiesta in the Kensington Town Hall, London.
Organized by the Anglo Latin American Foundation in conjunction with the embassies of the individual countries of Latin America, this annual charitable event aims to provide a platform for raising funds to support children's charities throughout Latin America.
It's also a tremendous opportunity for taking lots of photos which I did with my ever-surprising Nokia N95 8GB.
All those photos – 64 of them – are up on Flickr. I've also produced a video of them with the excellent Animoto, adding some appropriate Latin music:
A big highlight of the day was an appearance by Mexteca, arguably the best Mexican mariachi band in the UK.
They really added to the ambiente auténtico, playing for over an hour. I captured them at the start with about 6 minutes of video from which you can get a great sense of the crowd and the atmosphere.