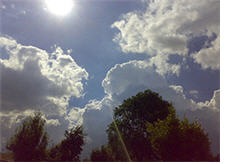 I'm in Manchester today to take part in the seventh annual CIPR Northern Conference, a one-day event of professional development and networking opportunities for PR practitioners in the north-west of England.
I'll be leading a Masterclass session this afternoon that the organizers have labelled 'Futurology' and what I call 'Next: Not Just the Here and Now' (cribbing the title of my tech blog):
This session will explore how media and communications are changing and provide some blue sky thinking as to what the future may hold.
What the future may hold for PR is as much about behaviours and attitudes – society's as a whole as well as practitioners' – as it is about technology. And of course, technology in general and social media in particular are an enormous part of changing behaviours and attitudes.
I hope the session will give participants an opportunity to share their own thinking and opinion on where they see the practice of public relations heading.
I'm looking forward to learning from them.