If you're like me, you've probably got a range of options for people to subscribe to your blog's RSS feed.
In addition to your main feed, often via FeedBurner, you might offer little chicklets or links that enable people to get your content via their preferred service such as Yahoo, Netvibes, Bloglines, etc.
I have such a collection of chicklets on this site (and an untidy, raggedy collection it looks).
A new service from European search engine and content portal Wikio, launching today, could be a better answer.
What Wikio offers bloggers and other publishers is a simple chicklet that, when clicked, will enable your readers to subscribe to your feed using the RSS service of their choice.
It means you don't have to display a long list of various RSS services and their corresponding chicklets – like the raggedly collection I have – if you want to let your readers subscribe with their favourite RSS reader.
Clicking on the chicklet once it's been installed on your site will open a new page containing a selection of popular RSS subscription options.
Then, one click and you're subscribed.
Go ahead, try it out:
The range of service options you get is not yet as comprehensive as I'd like. But you can let Wikio know about others you'd like to see.
This is not all you can do with the new Wikio service, though – you can also make your own widgets as well as a gadget for your Windows Vista desktop.
I'm not that big into desktop widgets or gadgets but I know quite a few people who love them, so perhaps an option to have your or someone else's content showing in a gadget in your Vista sidebar will be quite appealing.
Creating the Vista gadget is very simple, as is installing it.
The gadget itself is a bit plain-looking for my taste although it does its job well in the version I tested.
You can easily customize its appearance and size, as you'd expect with Vista gadgets, as well as how many content items you want to display.
And good news for Mac users – Wikio told me they're working on a version for the Mac OS that could be released later this month.
Another option that appeals to me is creating a custom widget for your blog that can contain, well, almost any RSS content you want.
Again, the creation process is very simple, requiring a few mouse clicks and entering a bit of text and the link to an RSS feed.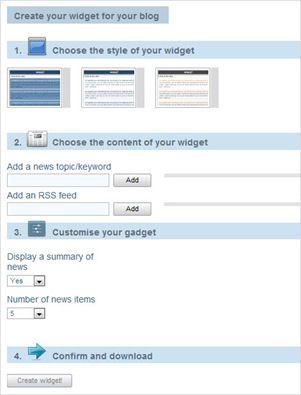 What you'll get is some customized code that you can insert into the place on your blog where you want the content to appear.
This is easy with WordPress, for instance, as you can do this in a sidebar widget so no need to fiddle around with code in your templates.
The one I created in testing didn't work, unfortunately, although I suspect that may have been more to do with network issues with the RSS feed than with the Wikio widget code.
There are other options to do things like this – for instance, NewsGator has a widget creator; I have one on this blog in the right sidebar – but I like the real simplicity of Wikio's.
So if you want a simple way to offer your readers easy options to subscribe to your content, and a simple means to create your own RSS widgets and desktop gadgets, Wikio offers a useful and free service.
[Later] I was thinking a bit more about the options Wikio offers you when you click the chicklet to subscribe to someone's feed.
They really are a bit slim.
Compare what you see in the screenshot at the top of this page with the choices you're offered at Feedburner:
I would guess it couldn't be too difficult for Wikio to add many of these additional services to the options Wikio offers, to fill in the blanks.
It may make the Wikio offering quite compelling. That's what I've suggested to them.