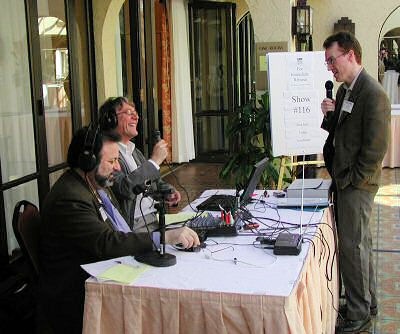 About six months ago, I wrote about PodPress on my tech blog, talking about my mixed experiences with this podcasting plug-in for WordPress.
In spite of those mixed experiences, I still use it as I've yet to find an alternative that offers the breadth and depth of functionality that PodPress does, in particular its easy iTunes integration and stats reporting.
And believe me, if I could find a reliable alternative that would also carry across all the historical stats from PodPress, I would use it.
In the six months since that post, four new versions of WordPress have been released, with the latter 2.6.x releases offering some big changes in functionality.
One change directly impacts PodPress to the extent that the current version 8.8 of the plugin, released in December 2007, will not work with WordPress without tweaking WordPress itself.
It involves the new post revisions function when editing posts; if you want to use PodPress with the latest WordPress version, you have to disable that function.
Luckily, there are at least a couple of plug-ins that take care of the matter so PodPress will work. The one I'm using in this blog is the excellent WP-CMS Post Control plugin by Jonnya. It works perfectly.
Yet this is a bit of an Band-aid solution really.
In July, PodPress' developer said he was working "swiftly" on releasing a new version that would work properly in WordPress.
Little firm news since then but plenty of commentary in the support forum (with some commenters blaming WordPress for the current sorry state of affairs: I suggest those folk read Jeff Chandler's post, especially the bit where he mentions PodPress.)
None of this is doing Podpress' reputation any good at all.
I really do hope PodPress does produce a new version soon that reliably works with WordPress, not only version 2.6.x but also version 2.7 that's due later this year.
It would be great if 2.7 included podcasting support. That might solve the problem entirely.
Meanwhile, I'm still looking for a better podcasting mousetrap.
Now a note about the photo above.
Taken by Philip Young, this photo shows, from left, Shel Holtz and Neville Hobson (that's me) recording FIR #116 at the New Communications Forum conference in California in March 2006, where we're in conversation with John Cass as part of the show.
It's one of my favourite photos related to FIR, the twice-weekly podcast Shel and I have been doing since January 2005.
Each episode is posted to the podcast blog. But Shel and I also cross-post each episode to our own respective blogs; in my case, I also make the show available here with PodPress.
So I have quite a stake in ensuring there is a reliable and trusted podcasting application for WordPress that works for readers here.
Related post: