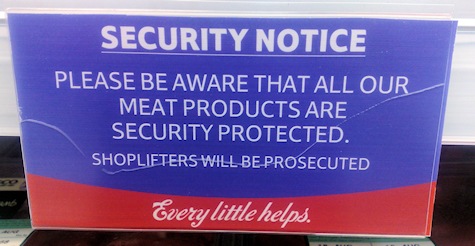 During a visit to a Tesco store today, I spotted this sign.
You get accustomed to seeing such notices in the electrical products section – all those expensive plasma TVs, computers, etc – DVDs, even the booze department.
But in the fresh meat section?
Well, I guess with the spiraling cost of living in the UK, it must be a sad reality that some people are going to try and steal food products like fresh meat because they see them as just too expensive. Even with the current intense price competition among the major supermarket chains.
And so we see supermarkets like Tesco introducing measures to prevent theft of basic foodstuffs.
I studied a pack of meat we bought, thinking it might have some kind of embedded tag or something similar in the packaging. But nothing obvious so I'm not sure how Tesco is security-protecting its meat products.
Maybe I should have tried walking out of the store with it to see what would have happened!
I did find it incongruous if not downright amusing that the stern security notice also includes Tesco's tag line that 'every little helps.'
In any event, it's all a depressing sign of the times.