Much has been written in recent months about the allure of Twitter and why people stick with it through thick and thin.
Twitter has no shortage of rival micro-blogging services – Pownce, Plurk, Identi.ca and Jaiku are the obvious ones that spring to mind – yet Twitter remains a primary place of choice for many people to connect with others online.
For me, a principal reason is that Twitter lets me connect with my online community in three ways: broadcast message to everyone in that community, reply to one or more specific individuals and a direct private message to one person.
No other bells and whistles like file transfers or timelines, just simple, practical and quick text communication from my computer or my mobile device.
Gregor Hochmuth has an insightful post on TechCrunch in which he suggests the reason for Twitter's enduring appeal is that your messages go to a well-defined audience (read his lengthy post to fully understand his rationale).
I don't doubt Gregor's argument that it's all about the audience. However, I think a close second reason for Twitter's continuing appeal is the growing number of useful third-party applications and services which provide you with all manner of ways to use and leverage Twitter, usually far more effectively than using only Twitter's own spartan web interface.
I've just discovered Twellow (via ReadWriteWeb), one such third-party service that adds significant value to Twitter as it lets you discover people on Twitter via categories – labels that enable you to find people by their occupation or other such professional designation.
For instance, I found that the Public Relations category includes 1,494 people on Twitter, many of whom I'm connected with in my Twitter community.
But this discovery enabled me to see a number of other people I didn't know were using Twitter and who I doubt I would have easily discovered without a concerted effort to look for them by their names which don't necessarily relate to their Twitter names (as mine doesn't).
When you look at the profile of someone in the Twellow directory, you see some very useful information about them.
Take my profile, for instance: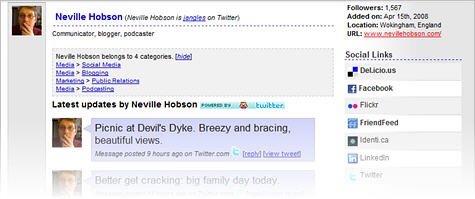 You can see how many categories my profile is associated with, so clicking on a category label takes you to a listing of everyone in a category. Useful.
You can also see what other social networks I'm part of; clicking on any of the links shown takes you to my profile on a particular network. Equally useful.
And you see the last five tweets I've made. Useful, too.
Twellow comes from Web Pro News (an organization I've had a relationship with since 2004 when they began syndicating my blog content) who describe Twellow thus:
Twellow.com is currently grabbing publicly available messages from the Twitter.com micro-blogging service. We then analyze and categorize each of the users responsible for those messages into the various categories found at Twellow.com. By adding these people to specific categories we help you narrow your searching into specific niches where you can find who you are looking for. In addition to Twitter, we're actively working on adding more social media services to broaden your capacity to find people who matter.
If you claim your profile, you can then edit it as you require, eg, add your real name if that's not shown. (One thing I did notice in the PR category is the vast number of people listed who haven't done that yet.)
A very useful resource that helps you more easily find other people with common interests.
You can read more about Twellow and how you can make it work for you in the Twellow blog.
Related post: