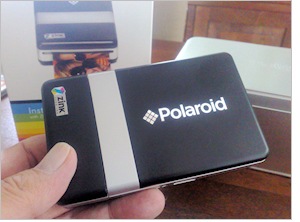 I met with some folk from Polaroid and PR agency Clarion Communications last Thursday evening to see and talk about the latest product Polaroid has just launched in the UK – the Polaroid PoGo.
This portable device you see pictured here – about the size of an iPod Classic but a bit thicker – is a printer that you'd use to print images from your digital camera or camera phone either via a wireless Bluetooth connection or with a USB cabled PictBridge connection.
And a nifty printer, too, one that contains no ink, no cartridges, no ribbon, just special paper and some clever technology.
I used the PoGo to print some photos from my Nokia N95 8GB via Bluetooth. A few seconds to pair the two devices, send the data from the phone to the printer and, in less than 60 seconds, a printed image.
The printouts are quite small at 2″x3″ (about 5cm x 7.6cm), a bit smaller than a standard-size business card. The quality is good although I would guess that's largely dependent on your camera resolution.
My N95 has a 5-megapixel camera so PoGo print quality is quite good. I'd guess resolution would be notably less if you had, say, a 2-megapixel camera, quite common on a wide range of camera phones.
Might not be much of an issue with digital cameras where resolutions of 8 megapixels and more are becoming pretty common.
The clever print technology in the Polaroid PoGo is much to do with Zink ('zero ink') in which each sheet of paper has colour dye crystals embedded and which convert into the image when heat is applied. You can read more about this technology at the Zink website.
The Zink paper has a peel-off backing which exposes an adhesive, so you can stick your prints anywhere you want.
So who's the Polaroid PoGo aimed at?
The 16-24 age group, according to Michael Thomas, Polaroid UK's Senior Product Manager EMEA who I talked with on Thursday. I recorded our conversation which is available here as an 8-minute podcast.
[display_podcast]
We also spoke about Polaroid's plans for other Zink-enabled devices including a combination camera/printer due to launch during Q1 2009.
The Polaroid PoGo launched in the UK on July 3 following its debut in Germany in June. It launches in the US this weekend, available in stores on July 6.
At £99.99 in the UK, it's an affordable price point, although if we are heading into a recession it may become an early casualty if people become more discretionary. The Zink paper comes in packs of 10 and 30 retailing at £3.99 and £6.99 respectively.
Polaroid US has a polaroidpogo channel on YouTube with video explaining how to use the PoGo. Not that you need a video – I found it simplicity itself.
This one I did like especially, though. Imaginative.