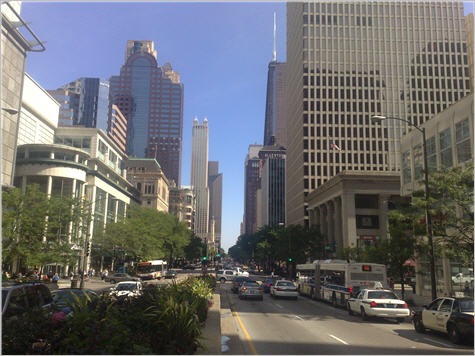 Getting ready to leave the Windy City after three fascinating days here. The picture above is one of many I shot this morning (Chicago time) along Michigan Avenue, all with my Nokia N95 8GB.
I also did a video walkabout, so to speak, just walking with the video camera on. Got some great video. I'll do something with that when I'm back in the UK. And upload all the photos to Flickr.
The Social Media Academic Summit, at which I was a speaker and a participant, was simply excellent. I met some terrific people. Barbara Nixon, for instance, and Gary Schlee, both FIR listeners. Robert French was here, too, terrific to see him again.
Plus many Edelman people, far too many to casually mention in this post. Some of them I have met before, others getting to know for the first time. A truly hospitable group, and thank you all again for your warmth, friendliness and openness.
A post to come about this trip and some of what I have learned. Here's a sample: all the communication and engagement issues I've heard people talking about over the past three days are very similar to what I hear people talking about in Europe.
But enough for now. Bags to pack and final tweets to do.