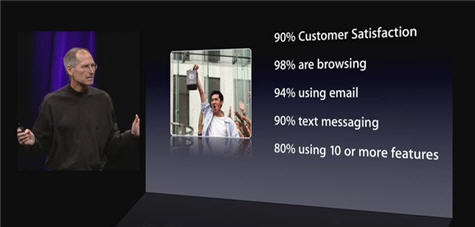 Watching the video of Apple CEO Steve Jobs giving his keynote address at Apple's developer conference last Monday, I was struck by two things.
First, Jobs is a compelling presenter, a true showman and storyteller. Not a showman in the negative sense but in the sense of someone who really can – and does – engage with his audience.
Second, how thin he looks. I've read he's had surgery for a cancer so perhaps his bulimic appearance is a consequence of that. Let's hope his recovery is going well.
Reading an article in The Economist this morning, I'm also clear that there's a third thing which, as The Economist says, points to the ultimate role of the iPhone:
[…] There were personal computers before 1984, but it took the Macintosh, which Apple launched that year, to popularise the icon-based graphical interface that others copied, kicking off the PC era.

There were digital music-players before 2001, but Apple's iPod made them both ubiquitous and user-friendly.

In the same way, says Tim Bajarin of Creative Strategies, an analyst who has followed Apple throughout its history, the iPhone, with its elegant touch-screen interface, seems likely to be the gadget that sets the direction that others will follow in the era of mobility.

To bring that about, Apple is now turning the iPhone into a hand-held computer and allowing other firms to write software to run on it. Other handset-makers are doing the same, but the iPhone's operating system and programming tools, on display this week, are better than theirs.

There is no doubt that Mr Jobs is trying to lead a third revolution in consumer technology in his lifetime.
Related posts: