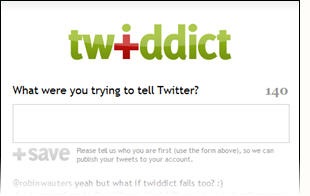 There's been a lot of talk about whether or not Twitter will collapse under the weight of the expected conversation tsunami that is likely later today during Apple's developer conference.
The big speculation about Apple's event surrounds expectations on the next-generation iPhone that may or may not be announced today, and which will undoubtedly produce plenty of online chatter via Twitter and every other online communication channel you can think of.
Twitter is making its own preparations for service continuity and reliability. But it's good to know that if Twitter does go down, there is a way to queue up your tweets so they will get published once Twitter's back.
That's the idea behind Twiddict:
We love Twitter. We hate when it's down. If you're addicted to Twitter as well, tweet your heart out through Twiddict and avoid life-changing withdrawal symptoms during Twitter downtime. We'll make sure your tweets end up where they belong.
Of course, if Twiddict goes down too, well, you're out of luck.
You can keep up with conversations about the Apple event on Twitter via Summize. Also, keep an eye on the new Twitter status blog for ongoing info about Twitter itself.