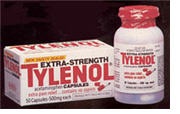 I watched a fascinating documentary on the
Virgin1
TV channel last night – the story of the
Tylenol poisoning crisis
in 1982.
Seven people died in the Chicago area after ingesting Tylenol Extra Strength capsules that had been deliberately laced with potassium cyanide poison.
The murder mystery remains unresolved to this day and the killer has never been found.
I well remember the crisis as it happened as it was an ongoing topic in a column on marketing that I wrote for a newspaper in Costa Rica where I lived at the time.
This human tragedy had major consequences for Johnson & Johnson, the owner of Tylenol through its McNeil subsidiary which, at the time, was the leading branded pain reliever in the USA with a market share of 35%.
That market share quickly plummeted to less than 10% amid TV images of people saying they'd never buy or trust the brand again.
The documentary described the quick – and costly – action that Johnson & Johnson took in the face of growing public concern and fear.
They could have shrugged their shoulders and said that it wasn't their problem as investigations showed that the product tampering happened in retail outlets, not during the manufacturing process nor in the supply chain.
They didn't do that.
Instead, the company withdrew Tylenol Extra Strength capsules from sale throughout the United States.
Wikipedia's article on the affair says that 31 million bottles were in circulation, with a retail value of over $100 million. That's in 1982 dollars.
J&J also advertised in the media  – press, TV and radio – warning people not to consume any products that contained Tylenol. Once it became clear that only capsules were tampered with, the company offered to exchange them for solid tablets.
A case study by WPP last year summarizes what J&J did:
[…] Johnson & Johnson also drew praise for acting quickly, without holding back. When the early news came out that Tylenol might be linked to the deaths in the Chicago area, they did not try to deny the connection, but instead pledged to work with law enforcement on the investigation. In the earliest stages of the crisis, they had no real facts to share, but made company spokespeople available to the media. As the nature of the problem became clear, they put the product recalls into effect, and pledged that Tylenol capsules would stay off the market until procedures could be put in place to make the packaging more resistant to tampering.
In fact, this crisis led directly to new manufacturing processes that include the tamper-proof packaging common to all over-the-counter medicines you see today, and many other types of product.
The decisive, responsible and immediate actions taken by the company undoubtedly helped the brand eventually start to reclaim a leading position a year later.
Courageous decisions taken by the leaders of Johnson & Johnson, decisions that could have been disastrous for the company if consumer confidence and trust in their leading brand had not been earned anew.
It's a great example of corporate social responsibility long before the term became fashionable.