A couple of weeks ago, I met Luke Razzell at the social media cafe in London.
Luke is CEO of i-together, the UK company behind Blog Friends, one of the more useful applications for Facebook.
What Luke introduced me to, though, is Buzzspotr, a new web service he's developing that's currently in private pre-alpha testing.
Buzzspotr is a mashup of data from Google maps and Trusted Places and Twitter-like messaging that lets you a) find out where your friends are, b) tell your friends where you are, and c) show all of this on a map with your own photo and comments.
Mike Butcher has a good writeup on TechCrunch UK including a screenshot showing some Buzzspotr activity.
I've been trying out Buzzspotr, which I find useful even in this pre-alpha stage. It's a neat way to communicate with your network and see where people are gathering and who's talking about what.
Where the buzz is, in other words.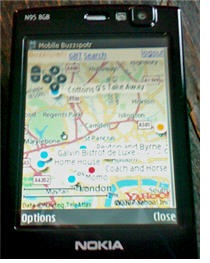 Yet the over-riding thought in my mind has been this – if this was a service you could use from your mobile device, then you'd have a really valuable communication tool that you can use anywhere at any time.
That means anywhere where's there's a connection to some kind of network, cellular or wifi.
You're not tied to a computer so ease of use becomes, well, easy. Plus spontaneous – just whip out your phone and buzz.
So yesterday's get-together at the social media cafe was especially interesting as Jof Arnold and Benjie Gillam, i-together's COO and CTO respectively, demo'd an extremely early version of what might become Buzzspotr mobile.
As you can see from the photo showing Buzzspotr mobile on my Nokia N95 8GB, you get a map (in this demo, a Yahoo map) showing current buzz hotspots – the coloured dots on the map – with red indicating where there's lots of buzz.
Using the service on the phone is as easy as using it on a PC.
Very early days yet for this stage in Buzzspotr mobile's application development. As it develops, the appearance and functionality may well change so don't take as gospel that what you see in this photo is what you'll continue to see.
But I think this is a terrific indicator of a truly useful mobile app, one that I reckon has great potential both from the user and i-together's points of view.
For instance, I could imagine someone signing up with a mobile operator and among the apps included on the phone would be Buzzspotr mobile just as many operators include services like eBay, YouTube and Google Maps, to name but three that came on my phone from Vodafone.
Keep an eye on Buzzspotr (and i-together) – it's going places.