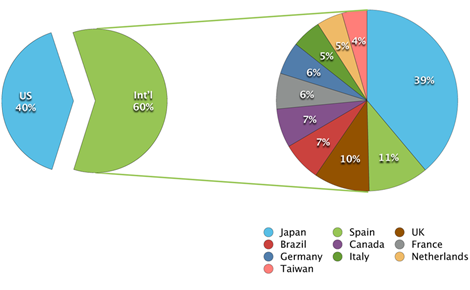 An interesting stat posted on the Twitter blog shows which are the top ten countries with the most people using the Twitter social network as determined from Twitter's public timeline.
That's how I describe Twitter, incidentally – a social network, not the original descriptor 'micro blogging tool.' My perception of Twitter has evolved.
The US is the leading country, no surprise there, with 40%. The #2 did surprise me – Japan at 39%. Then follows Spain at #3 with 11%, the UK at #4 with 10% and the others as you see in the chart.
It's good to know this but what does it really mean if you want to know some actual numbers? How many Twitter users are there around the world and how do they break down by country?
Luckily, Twitterfacts has those answers and also an indicator of growth.
This chart, from January 2008, shows that the total number of Twitter users (squinting at the chart, it looks like around 750,000) has +/- trebled in about eight months.
Twitterfacts pulls its numbers from Twitdir. And today, some six weeks after Twitterfacts produced the graph, Twitdir says the total number of Twitter uses is 907,884.
So that means the top ten countries, in the chart at the top of the page, looks like this from the number of users point of view:
USA: 363,153
Japan: 354,074
Spain: 99,867
UK: 90,788
Brazil: 63,551
Canada: 63,551
France: 54,473
Germany: 54,473
Italy: 45,394
Netherlands: 45,394
Taiwan: 36,315
Make of the numbers what you will but it looks pretty solid.
And pay attention to Twitterfacts who are tracking growth trends – they reckon it will hit the one million mark in total by April 1 this year.
Could be sooner.
[Later] I didn't spot Twitterfacts' more recent prediction of growth until after I posted this post – one million users before March 1.
That's just over a week away. Possible, highly possible.