Reviewing some of the reporting and commentary from the Mobile World Congress in Barcelona this week, it's clear to see that this is heaven for gadget geeks.
I wish I were there!
New mobile devices abound, either launching very soon or in the works for later in the year, such as one that interests me a lot – the Nokia N96, successor to the N95 models (I have an N95 8GB).
Devices like this are squarely positioned as  audio-visual entertainment devices, from a content creation as much as a content consumption point of view.
Touchscreens are big in Barcelona with handset manufacturers such as Nokia and Sony Ericsson announcing new phones with touchscreens, as reporting by Engadget Mobile indicates. Clearly the iPhone touchscreen is a big influence.
And of course, Google Android talk is everywhere.
It's the entertainment perspective of mobile devices that I find especially compelling.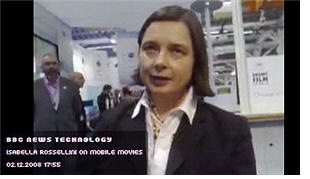 So it was fascinating to watch an impromptu video interview by the BBC's Rory Cellan-Jones with Italian actress Isabella Rossellini.
I like Rory's first question: "What's a Hollywood star of your stature doing at a trade show which is about something as tedious as the mobile phone industry?"
Rossellini's instant response was that mobile phones need content – we carry them in our pocket; they're very intimate, she said – and mobile devices now expand cinema and home-viewing movie audiences.
In other words, having the ability to watch movies and other audio-visual content anywhere at any time is what people are most interested in.
If it's easy to do, you'll want to do it. And you'll want content.
Hence a keen interest from Hollywood and independent producers in the latest (and forthcoming) mobile devices.
Hollywood legend Robert Redford is also in Barcelona where he'll headline at Mobile Backstage, a special one day mobile entertainment conference tomorrow:
[…] Redford will participate in a keynote interview, which among other topics will explore the potential of mobile – the '4th screen' – as a medium for independent filmmakers to reach new audiences on a global basis.
Another thought from Rossellini that really sums up a big part of what's coming from a content point of view:
Think of the small screen as a new canvas; you can design films made for it.
Short films in particular, ideal for the media snacking approach increasingly common as people juggle multiple things at once in that constant battle to balance time.
And think of the success studios like Pixar is having with its short movies from iTunes that you can buy for viewing on your iPod.
There is clearly a rosy-looking future for the mobile phone market and content producers.
Overall, though, this is a great time to be a consumer (and a creator).
Related posts: