One of the frustrating things about some websites, including many blogs, concerns printing.
Let's say you're on a site reading an article or post and you want to print out a hard copy. It's common to get a result that runs into pages, more than you actually need, and not formatted for the purpose. Worse, especially if a website uses frames, you may get lots of blank pages before (or after) you get that one page you want.
Wouldn't it be great if you could get your hard copy in a format that's designed for print, doesn't waste half a rainforest of paper and is easy on the eye to read?
I recently discovered a great way to do this on this blog, with a plugin for WordPress from Hewlett-Packard.
Called HP Blog Printing, once you've installed and activated it, you get a little widget to position wherever you want to in your blog. That widget gives you a button called 'print posts' – you can see it on every page here at the top left of your screen.
When you're reading a post and click on the button, you get a popup window like this: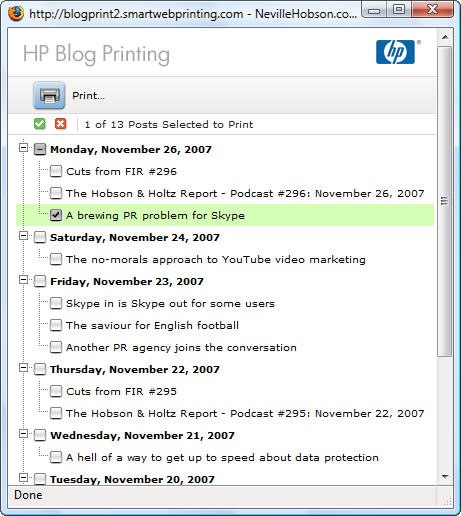 The page you're on is selected; clicking the print button in the window starts the printing.
Here's where the plugin really is good.
Rather than just print out a hard copy, it creates a PDF file of your page which downloads onto your computer. You can then print that out, or not as you wish.
This is what the example highlighted in the window above looks like:
The one thing to watch out for is if you click on the 'print posts' button on a blog's home page. The popup will appear with every single post highlighted, which may not be what you want or were expecting.
My take: Overall, very nice indeed. Also take a look as what Richard Gatarski says about HP Blog Printing – he's elaborated a bit on installation and usage, and points out a couple of niggles he had with installation (I had no problems with that).
Still, a nice job from HP's Tabblo developer community. And it's free. In addition to the version for WordPress, there's also one for Movable Type.