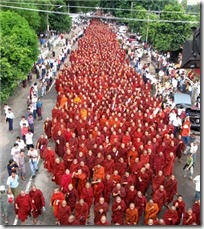 With a fast-moving current event such as what's happening in Burma at the moment, real-time media such as TV and radio are the best way to keep up with events.
Yet what's happening as seen through the eyes of mainstream TV and the voice of radio isn't likely to reflect the whole picture.
Burma (or Myanmar as it's now known) is a country whose military government routinely censors all media and rigidly (and violently) restricts freedom of speech. Foreign journalists are not permitted into the country.
So how is audio-visual news getting out?
An AFP report yesterday via Yahoo News reports that bloggers are breaking through the military junta's tight internet controls to post photos and videos of the swelling anti-government protests:
[…] an army of young techies in Yangon [the capital, previously known as Rangoon] works around the clock to circumvent the censors, posting pictures and videos on blogs almost as soon as the protests happen.

Many of these images have been picked up by mainstream news organisations, because bloggers have managed to capture images that no one else can get.
It's not just bloggers, either – some audio-visual content is coming out taken by people using mobile phones.
A BBC News report today has more on this 'underground media' movement:
[…] Images of maroon-robed monks leading throngs of people along the streets of Rangoon have been seeping out. […] The pictures are sometimes grainy and the video footage shaky – captured at great personal risk on mobile phones – but each represents a powerful statement of political dissent.
This particular BBC report goes into some detail in describing the role the internet is playing in enabling people to get unfiltered and uncensored information out of the country, in spite of the government's efforts to prevent it:
[…] Compared with China's virtual and physical controls on internet use, however, Burma's systems are pretty unsophisticated, experts say.

"The Burmese government has a very repressive filtering regime… but it can be a bit inconsistent – one of the internet service providers blocks only international sites, the other only regional ones," said Ian Brown, a research fellow in internet privacy and security based at Oxford University's Internet Institute.

Burma's bloggers are adept at exploiting the loopholes.
Where there's a will there's a way.
[Later] Interesting commentary: Should it be Burma or Myanmar?