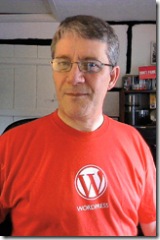 Suddenly encountering difficulties publishing a post from Windows Live Writer where the post contains an image.
Troubleshooting with Joe Cheng at Microsoft.
This is a test post to see if it now works if I disable the Bad Behaviour plugin and try again to publish a post containing an image.
I did already apply the BB fix after learning of an issue with that plugin, WP and WLW.
So here's a pic of me in my brand new WordPress T-shirt which arrived the other day (bought from WP's new international store).
Does this work?
[Later Edit] Yes it did. Interesting. Ok, on with troubleshooting…