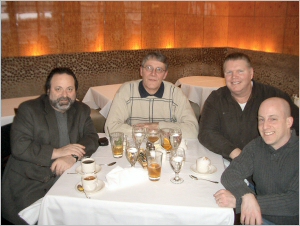 A brief respite from work yesterday with a very pleasant few hours of conversation over lunch with Shel, Rob Safuto and Dave Rimington at the Bryant Park Grill here in New York City.
I've known Rob (extreme right in photo) for some time but we've never met before. It was great to finally meet.
Dave (second right) is president of the Boomer Esiason Foundation, a partnership organization that helps provide financial support to research aimed at finding a cure for cystic fibrosis.
As you might expect, we all have a common and passionate interest in social media and many things communication- and tech-related.
Rob (who's already blogged our lunch; Shel too) summarizes very well indeed what we talked about:
[…] We talked about cell phones, the ins and outs of podcasting, Microsoft Vista, disruptive marketing in Second Life, blogging and much more. Neville took some pics with his Nokia N73 and recommended we check out xolo.tv. Shel introduced us to his below the radar podcast Jam Journey. I showed off my Samsung Blackjack which took the pics in [my] post.
Shel and I are planning to interview Dave soon for an FIR Interviews podcast. Dave is very active in Second Life for the Foundation and we're looking forward to continuing our conversation about what the Foundation is doing in that virtual world. Some very interesting things.
Now, off to Grand Central Station to catch a train to rural Connecticut for a social get-together of crayonistas. Crayonistsas? Think of fashionistas as applied to marketing.